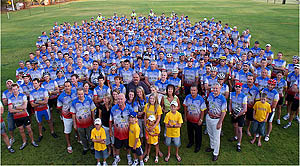 Ride Like Crazy 2009
In October 2008 Senior Sergeant Mick "Crazy" Koerner of the South Australia Police was diagnosed with an inoperable brain tumour. His work colleagues and friends established a cycling event called Ride Like Crazy.
On 22 January 2009, more than 600 riders took part in the fundraising event.

Due to the overwhelming success of Ride Like Crazy, South Australia Police has adopted the ride as a community event. Ride Like Crazy 2010 will continue the event's legacy of promoting the fight against cancer, with all profits supporting the Women's and Children's Hospital Foundation Inc. and the Neurosurgical Research Foundation Inc.
The signifance of Ride Like Crazy was realised with the sad and untimely passing of Mick "Crazy" Koerner on November 14 2009. Crazy's friendship and influence on all those that he knew will never be forgotten.
View the story on A Current Affair (this footage has been kindly donated by Channel 9)