Lightsview Ride Like Crazy 2015
---
With major bushfires and subsequent road closures before the ride the weather was excellent on Sunday 18 January, 2015. The morning was superb, the roads had just opened and over 1,400 riders were in the mood to ride and raise money for Cancer Research in South Australia.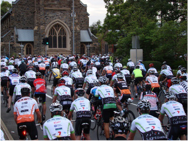 Our volunteers were amazing with many starting at 5am. They were involved in a multitude of tasks including providing refreshments, traffic marshalling, placing traffic cones, fitting marquees, issuing rider wristbands, fixing bikes & handing out lunches to the multitude.
Once again we had photographers out and about to capture the riders. The photos have been made available for free to all by visiting our photos page.
The usual great shots are also available through Epson Road Studios.
The aim of Lightsview Ride Like Crazy 2015 was to reach the $1million milestone of raising funds for cancer research. Thanks to the number of registrations and support from our wonderful sponsors this milestone was reached with the Flinders Medical Centre Foundation and the NeuroSurgical Research Foundation being the recipients. Since 2010 over 10,200 riders have participated.