Ride Like Crazy 2014
---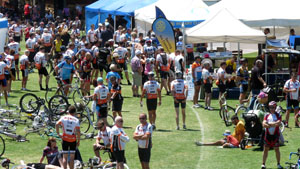 With heatwaves before and after the ride the weather was kind to us on Sunday 19 January 2014. The morning was superb and the 1500 riders were in the mood to ride and raise money for Cancer Research in South Australia.
This year we saw the introduction of the alternative Corkscrew Challenge option which proved very popular with the experienced riders. Community Event speed restrictions were put in place at the junction of Montague Road which provided a safer route for those who took up the Challenge.
This year we had photographers out and about to capture the riders. The photos have been made available for free to all by visiting our photos page.
The usual great shots are also available through Epson Road Studios.
What remained the same was that through your participation Ride Like Crazy Inc. donated another $160,000 to the nominated charities. Cheques were presented to the Flinders Medical Centre Foundation and the NeuroSurgical Research Foundation. Since 2010 Ride Like Crazy has attracted over 9500 riders and donated a staggering $836,700 to charity.